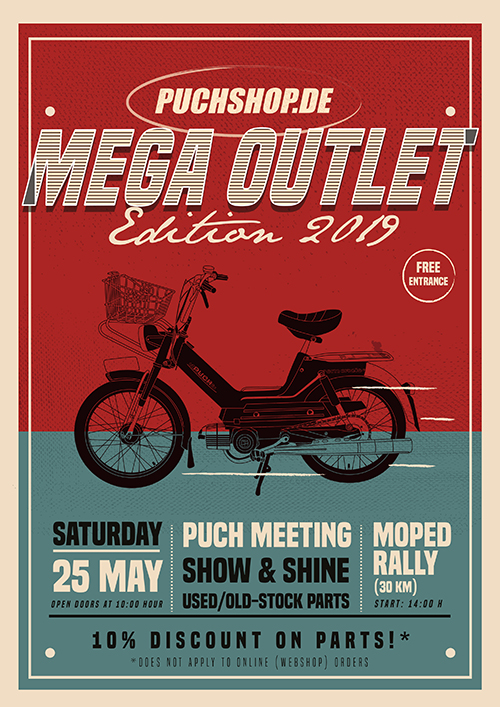 Puchshop Mega Outlet 6 - Saturday 25 May 2019
On Saturday 25 May 2019 we are hosting our Puchshop Mega Outlet for the 6th time! It is getting bigger every year, with alot of Puch and two-wheel lovers from all over the Netherlands and the surrounding countries.
10% discount
Besides the nice atmosphere and meeting, we also offer a discount of 10% on all parts for everybody who comes to the Mega Outlet!
(This promotion is not valid on online orders in our webshop.)
Second hand / old stock parts
In the past few years we have built up a large stock of second hand / old stock parts.
Beautiful parts for a nice price. Tip; If you want to get the best buys, be there on time. The doors will open at 10:00 hour!
Show & Shine contest
During the Mega Outlet there is the possibility to participate on the Show & Shine contest. You can register on the day itself at the registration point. So make sure your Puch looks its best! ;-)
Pre-signup moped rally
This year there will also be a moped rally of +/- 30 km/h through the beautiful area of Wageningen. Last year it was a great succes with about 110 participants, which we want to surpass this year!
To give an indication of the number of participants for this year, we would like to receive a pre-registration. You can register using the form below.
Signup form moped rally (30 km)
Also join our Facebook Event!