Our december contest

December = giveaway month up to € 1.150,-! (closed!!)
Like every year, we have our December action! This year we have a very awesome first prize namely; A complete new running ADDY engine with all the equipment worth € 1.150,-! This engine was built by Chris & Eric during our YouTube series about the new ADDY engine! You can see the details and all other prices below!
How do I enter the contest?
From friday 9 december 00:00 hour till monday 2 january 23:59 hour, your order number will automatically be your lottery number, you can order as many times as you want; every order number has a chance to win!
Live raffle
The lottery raffle will be live on our Facebook page and Instagram on tuesday 3 January at 20:00 hour (gmt+1). We will inform the winner personally by e-mail. If you provided a phone number in your order, we will try to contact you directly live.
Terms and conditions:
1. Only orders placed and paid before 2 January 23:59 will take part in this action. Please note, if you choose bank transfer as your payment method, it may take slightly longer for us to receive payment.
2. It is not possible to combine multiple orders into one package to save shipping costs to get multiple order numbers.
3. Dealers and resellers are excluded from this win contest.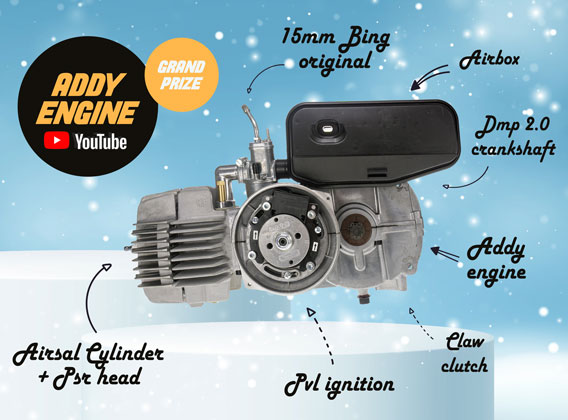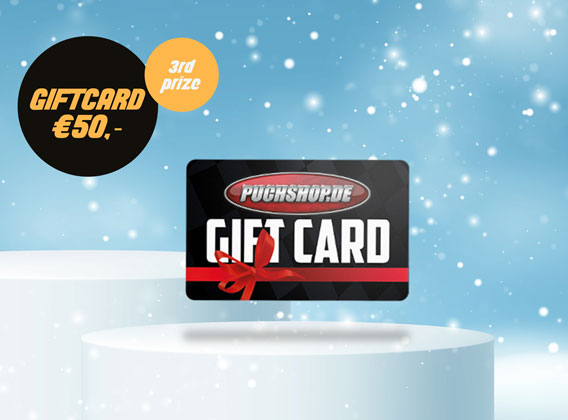 3rd Prize | Puchshop giftcard
The Puchshop giftcard for the 3rd prize with a value of €50,-!

Giftcard value of € 50,-!
Won by Henrik van der Maas (NL) with order ID 710537


We also had 5x small prizes with a Puchshop Goodie bag, these were won by:

Melvin te Kronnie (NL) with order ID 711031
Klaus Schmedes (DE) with order ID 712465
Sascha Huntemann (DE) with order ID 711030
Rüdiger Frankl (AT) with order ID 712774
Michael Bele (AT) with order ID 711861
Want to watch back the live draw? You can watch this via Facebook or Instagram: